Travel Nurse Stories, Resources, and Tips
Travel Nurse Stories, Resources,
and Tips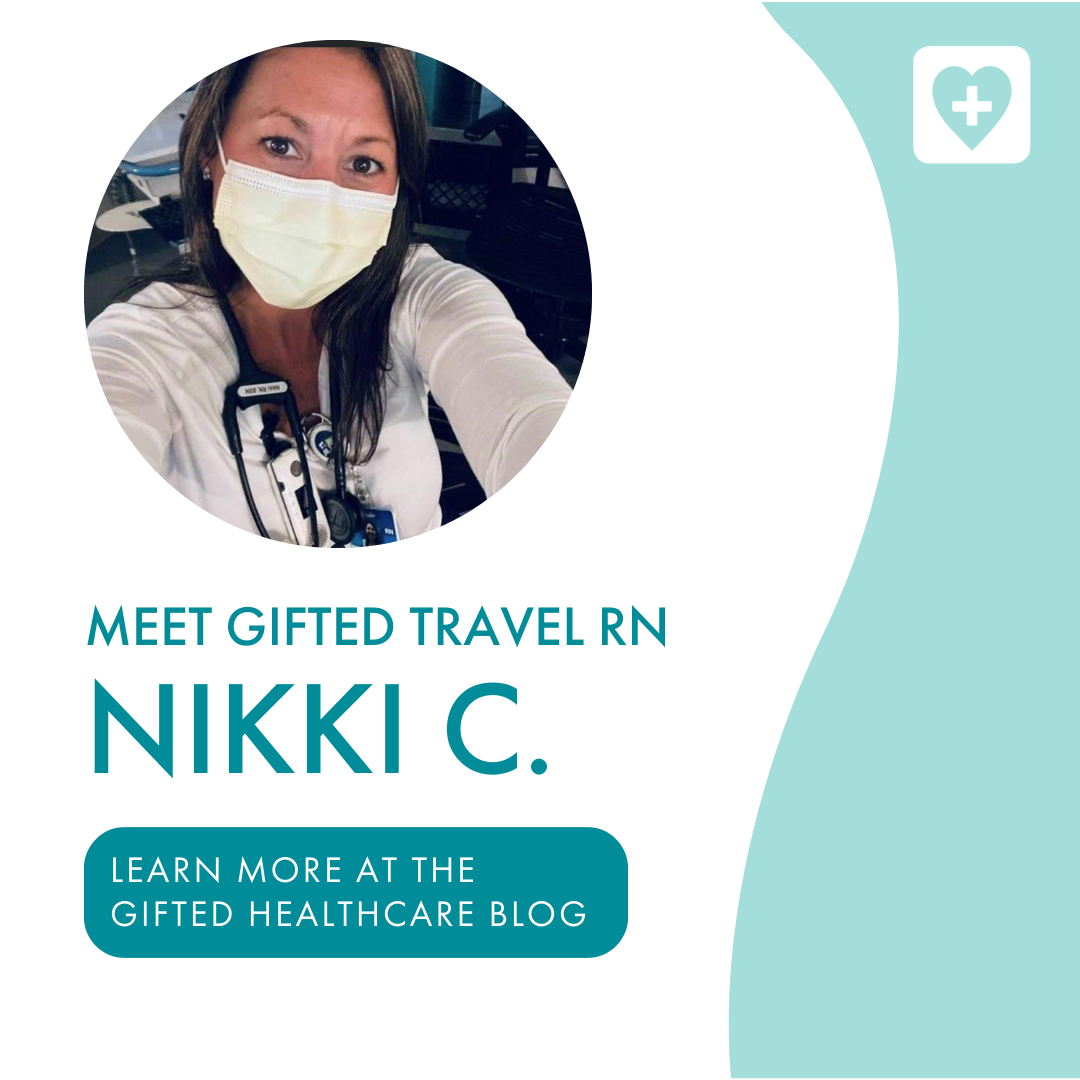 Clinician Spotlight: Nikki C., RN
Nikki became a nurse in 2013 and is celebrating 10 years in the nursing field, the most recent three spent as a Trauma ICU Stepdown nurse. Her path to nursing came to fruition after spending some time in the hospital and experiencing it all from the other side of the bed.
She started travel nursing just a little over a year ago and it has opened her world up to new cities across the country that she had never visited before. Nikki is currently on an assignment in the beautiful mountains of Virginia, working in Roanoke, VA, and previously traveled to Boston, Kentucky, and Virginia Beach.
Read on to learn more about Nikki's career as a nurse.
Path to Nursing
Before becoming a nurse, Nikki spent significant time in the hospital by her partner's side after he suffered a spontaneous pneumothorax. He experienced this sudden health crisis three times in an eight-month period and with each one came a week-long recovery in the hospital.
"It was extremely painful to have a chest tube in your ribs like that," said Nikki. "I watched the person I loved be in intense pain, sitting by his side the whole time. I can tell you that it made a tremendous difference when we had a nurse come in who put her heart into her work and was genuinely there for the patients."
"It benefited his recovery and that was when I realized that helping patients was something I wanted to do," Nikki continued.
Back to School
Nikki then went back to school and attended Daytona State College for her nursing degree. With two children, attending school full-time was no easy ride. With the help of her family, she was able to attend school while bartending on the weekends to support her children. Two years later, she was finally able to begin living out her dream of being a nurse.
"I have moments every shift that remind me why I do what I do. If it wasn't for those moments, I wouldn't be doing it still, so that is what keeps me alive," said Nikki.
"I authentically and genuinely care about my patients. This is so important to me for my patients to know which has blessed me with amazing nurse-patient relationships," continued Nikki. "Just last week I had a quadriplegic patient who wasn't engaging. As I was taking care of him, he began to open up and we discovered that we were both from Florida. This was a patient that was nonresponsive before, so it was really special to connect on another level."
DAISY Nomination
Nikki recently was nominated for a DAISY Award while on her travel assignment with Gifted for her compassionate care. Here's what her co-worker had to say when nominating Nikki:
"Nikki enthusiastically and compassionately cared for a difficult patient…she did her best to avoid using restraints and was patient and incredibly kind to him. I appreciated her help greatly and it made a huge difference in his care."
Working with Gifted
We ended our interview by asking Nikki about her experience working with Gifted Healthcare and her response is exactly why we prioritize the work of the nurse.
"It's been a fabulous experience. My best travel experience so far actually," shared Nikki. "Unfortunately, at the very beginning of my assignment, a very close friend passed away unexpectedly, and I had to fly home. I spaced on getting my time in, I just didn't even know what day of the week it was anymore. Gifted took care of everything – they went above and beyond to make sure they got my hours in so that I wouldn't miss a paycheck. I've felt that support since I started with Gifted, and I cannot say enough good things about my experience."
What's Next For Nikki
Travel nursing has opened many doors for Nikki and she loves how each and every facility constantly challenges her.
"You really grow as a person when you work at multiple hospitals because every new hospital is a challenge and a learning opportunity. You navigate working with new people, new patients, and new protocols. I love the newness that comes with travel nursing," said Nikki.
While Nikki is traveling around on nursing assignments, she is also studying at the University of St Augustine for Health Sciences to obtain her Master's Degree and become a Family Nurse Practitioner. She spends many of her days off studying and doing homework to achieve her next goal.
Join Gifted Healthcare
Gifted Healthcare is a leading healthcare staffing agency that helps you find an assignment that aligns with your career goals. Our experienced recruiters are here to guide you through the process and match you with opportunities that match your preferences. Connect with a Gifted recruiter today and take the next step towards an enriching career in healthcare.