Travel Nurse Stories, Resources, and Tips
Travel Nurse Stories, Resources,
and Tips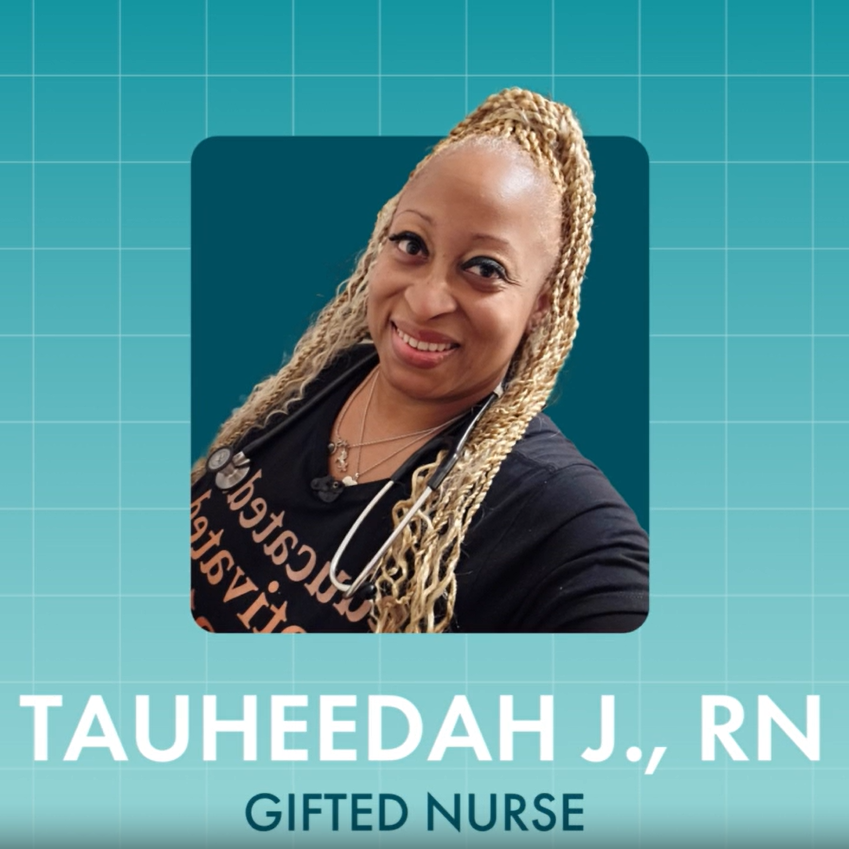 Travel Clinician Spotlight: Tauheedah J.
Meet Tauheedah J., a travel RN that has been working with Gifted Healthcare since 2021. Her specialty is Cardiology and she has previous experience in MedSurg, Orthopedic, Gastroenterology, and more that have diversified her skills and allows Tauheedah to bring the best care to her patients.
Over the past six years as a registered nurse, Tauheedah has lived her career to the fullest by traveling and working all across the country. She drives to each and every assignment, never flies, so she can take in more of the journey. She utilizes her flexible schedule to take trips to surrounding states and truly makes the most out of her assignments.
Read on to learn more about Tauheedah's journey as a nurse, her travel experiences, and why she works with Gifted Healthcare.
Why Nursing?
Tauheedah has been in the medical field for almost two decades, starting her career as a medical assistant in 2006. After attending school in Nashville, she became a registered nurse in 2017. Over her past six years as an RN, Tauheedah is reminded of why she loves her profession through different patient experiences.
"Nursing is my passion. I serve others by serving through healthcare," started Tauheedah. "My maternal grandmother was a nurse midwife and she actually delivered me in her home. In 2018, my father passed away from congestive heart failure, so I know my grandma led me to nursing and my father led me to cardiology."
"Cardiology is where my heart is. I feel so fulfilled with my life."
Over her career, many patients have left an imprint on Tauheedah, but one patient sticks out most because she was left teary-eyed and called her mother to share the impact.
"A patient I connected with tracked me down after my shift one day and gave me the biggest hug," said Tauheedah. "After she pulled away, she said 'I will never forget you' and that has stuck with me every day since. I called my momma right away and had to tell her because this patient's words touched me."
Adventures while on Assignment
Tauheedah has taken travel assignments in Kansas, Tennessee, Nebraska, Texas, Oklahoma, Louisiana, Missouri, Colorado, Arizona, Iowa, New Jersey, and counting! Here are her highlights from the past years of travel:
Dog Sledding in Colorado
Driving through the mountains in Arizona
Visiting Niagara Falls on her trip to New Jersey
Touring Prince's House in Minnesota
Touring the 9/11 Memorial in Oklahoma
Wine tasting in Napa and Sanoma while driving the coast of California
Spending her birthday in the Maldives
"I love going to places where the road is less traveled. I have a wanderlust. People don't ask me how I am, they ask me where I am," said Tauheedah. "I am going to hit all 50 states before I turn 50. I just celebrated my 46th birthday and I have 12 states left to go!"
Experience with Gifted
Tauheedah has been working with Gifted since April of 2021. She has completed 11 assignments all in 11 different states.
"No one has gone to fight for me until I started working with Gifted Healthcare," stated Tauheedah. "My recruiter, Morganne, is like family. There are pros and cons to living life out of a bag and that connection is important to me while travel nursing."
Start your journey with Gifted Healthcare today and see where your career can go. Connect with a Gifted Recruiter or refer an RN friend to Gifted so you both can earn $500!