Travel Nurse Stories, Resources, and Tips
Travel Nurse Stories, Resources,
and Tips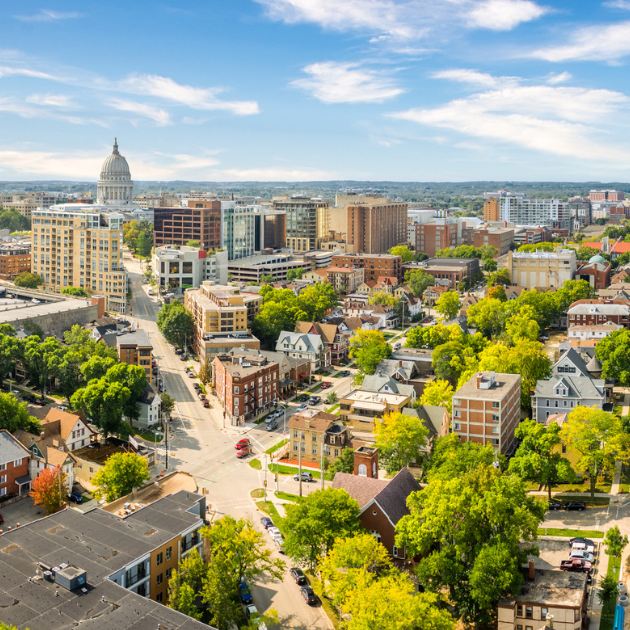 Unlocking Madison, Wisconsin: A Travel Nurse's Guide to Top Attractions
For travel nurses, each assignment brings a unique opportunity to explore new destinations while making a positive impact on patient care. Madison, Wisconsin, often referred to as "The City of Four Lakes," is a hidden gem that should be on every travel nurse's radar.
This blog will guide you through the top things to do in Madison, Wisconsin, ensuring you make the most of your assignment with Gifted Healthcare in this picturesque city.
Embrace the Natural Beauty
Madison's defining feature is its four stunning lakes – Mendota, Monona, Waubesa, and Kegonsa. These lakes offer a tranquil escape from the rigors of nursing work. Spend your days off paddling on a kayak, taking a scenic cruise, or simply basking in the beauty of the shimmering waters.
Lake Mendota's Memorial Union Terrace is a must-visit spot on your travel assignment. The terrace has live music and is the perfect place to relax and watch the sunset with a lake view. It's also known to have some awesome food too.
Wisconsin State Capitol
The Wisconsin State Capitol building is a masterpiece of architecture and a symbol of the state's history and governance. Its iconic dome, one of the largest in the United States, beckons you to explore.
The Capitol offers free tours that bring you out onto the observation deck for breathtaking panoramic views of Madison. The area around the Capitol, known as Capitol Square, is bustling with shops, restaurants, and the vibrant Dane County Farmers' Market in the summer months.
Cultural Delights
Madison is a hub of cultural activities and artistic expressions. The Overture Center for the Arts hosts a diverse array of performances, from Broadway shows to classical concerts all year long.
The Chazen Museum of Art on the University of Wisconsin-Madison campus is open daily and always offers free admission. The museum features an extensive collection of art from different cultures and eras.
University of Wisconsin-Madison Campus
The University of Wisconsin-Madison campus is a vibrant place to explore while on your travel nurse assignment. You can enjoy a leisurely walk through Bascom Hill, known for its picturesque views, or visit the Memorial Union Terrace, where you can savor ice cream, enjoy a lakeside view, and participate in outdoor activities. Don't forget to explore the nearby Arboretum, a haven for nature lovers.
Food Scene
Madison's food scene is a delightful mix of flavors and cuisines. Dive into farm-to-table dining, savor local Wisconsin cheese, and explore the city's food truck culture. Don't miss the Dane County Farmers' Market for fresh, locally sourced ingredients to whip up in your house to meal prep for your next shift. Check out some of our meal prep tips for you!
Bike-Friendly Paradise
Madison consistently ranks among the most bike-friendly cities in the United States. With over 200 miles of bike paths and lanes, it's the perfect city to explore on two wheels. Whether you're commuting to work or exploring the city's neighborhoods, biking is a convenient and eco-friendly option.
Sports Galore
If you're a sports enthusiast, Madison has you covered. Catch a University of Wisconsin Badgers game, whether it's football at Camp Randall Stadium or basketball at the Kohl Center, you'll get to see how the state roots for their teams. The atmosphere in these stadiums is electric, and you'll experience the true spirit of Wisconsin sports.
Outdoor Adventures
Madison's outdoor activities are not limited to its lakes. In the summer, explore the extensive network of hiking and biking trails, or go boating and fishing. In the winter, embrace the snow and try cross-country skiing or ice skating. For a more immersive natural experience, visit the nearby Devil's Lake State Park.
Rich History
Gain insight into Madison's history by visiting the Wisconsin Historical Museum. This museum was originally converted from an old hardware store in 1986. A brand new museum is being built to carry on its legacy that will provide unprecedented access to the state's historical collections. Be sure to check out the brand-new experience when you take an assignment in Wisconsin.
Community Events
Madison thrives on community events and celebrations. Keep an eye on the city's calendar for festivals, markets, and cultural gatherings happening throughout the year.
One highlight for beer enthusiasts is the Great Taste of the Midwest, one of the nation's premier craft beer festivals held annually in August. If you get the chance to go, you definitely don't want to miss it!
Travel to Madison, WI with Gifted Healthcare
Madison, Wisconsin offers travel nurses a rich tapestry of experiences, from its natural beauty to cultural attractions and outdoor adventures. Make the most of your next assignment with Gifted Healthcare by exploring these top things to do in Madison. Whether you're seeking relaxation or adventure, Madison has something to offer every travel nurse and when you work with Gifted Healthcare, you get a recruiter that specializes in your career. Gifted Healthcare is among the top travel nursing agencies because of our dedication to you! Connect with a recruiter today.