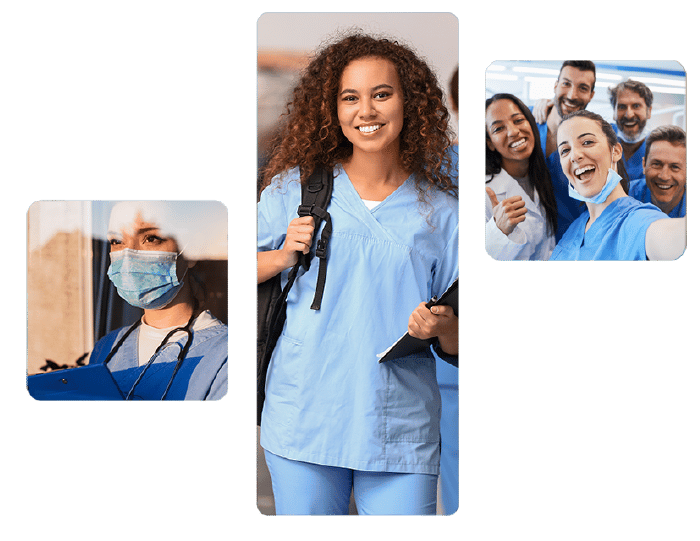 Get outstanding support and top perks with Gifted
You put in the time, effort, and energy to make patients' lives better so you deserve compensation, benefits, and support that reward your work you do.
At Gifted Healthcare, we listen to what our clinicians need and strive to keep them satisfied. Here's a snapshot of our travel nurse benefits:
Premium Pay
For every assignment, your pay package is personalized to fit your needs.
Dedicated Recruiters
Our recruiters work nonstop to find you the perfect assignment.
Premier Facilities
We'll connect you with high-quality facilities that boost your career and offer you balance.
24/7 On-Call CNO
Whether you want career guidance or a sounding board, our CNOs are there for you.
Day 1 Total Health
From the very start, Gifted provides health, dental, and vision insurance.
Affordable Coverage
From short-term disability to life insurance, our coverage doesn't break the bank.
Top Referral Bonuses
Want to work with your friends? Gifted will pay you and your referral $500 each!
Career Coaching
Right from the beginning, we offer resources to reach your nursing goals faster.
Pet Insurance
We love your furry friends too. Keep them safe, whether you're at home or on the road.
Uniform Discounts
Why should your work expenses come out of pocket? Save on scrubs, shoes, and other uniform needs.
Travel Discounts
Save on anything you can connect to your assignment, from cell phone plans and gym memberships, to rental cars and hotel rooms.
Entertainment Discounts
You deserve a little fun. Save on movie tickets, concerts, theme parks, and more.
Get more information on benefits
Contact our Benefits department
The Gifted Nursing Blog offers tips perspectives and stories to help you make the most of your nursing job experience
Know an Exceptional Nurse? Introduce Us!
Make a referral to Gifted Healthcare, and we'll not only help your peers find the perfect career fit, but you'll receive a $1,000 bonus.